Oriental and Specialty Rug Cleaning
Having the right accent rug can make a room come alive, and you've selected your rugs carefully to reflect your personal taste and lifestyle. They are an investment in your home. Give your Oriental and specialty rugs the professional attention they deserve to remain clean, fresh, and bright, and they'll enlighten your home for many years.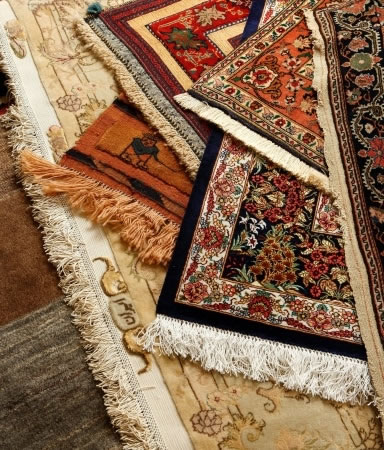 Rugs require special care for a variety of reasons. There are many different fabrics and threads used in the looming process. Color dyes and the quality of construction can vary widely also, from an inexpensive bound carpet remnant to a priceless fringed Oriental masterpiece. Use of the appropriate cleaning products and techniques is critical to maintaining your rug's color, shape, and texture. The knowledgeable cleaning technicians at Elite Carpet Care have been trained to recognize your rug's special characteristics, and can recommend an appropriate cleaning regimen to give the best possible results.
Rug cleaning services are priced by type and by size, and we'll provide a cleaning estimate over the phone. We'll pick up your rugs and take them to our off-site facility, where they will be professionally cleaned, dried, and brushed, using the techniques that are appropriate for the type of rug and fabric. This ensures the proper cleaning and drying environment so that your rugs will retain their color and shape after cleaning. Your rugs will be fully dried and brushed, and then brought back to you brightened and fresh at time that's convenient for you. Our technicians will review the results with you, and can help put the rug back in place in your home.
The technicians at Elite Carpet Care are also trained to handle special cleaning issues such as pet or food stains, odors, or fringe discoloration. Rest assured that your rugs are in excellent hands with Elite Carpet Care!