Residential Carpet Cleaning
Every day, the carpet in your home receives an enormous amount of wear and tear. From the grocery store to the kitchen, sports practice to the laundry room, you walk, eat, sit, play, lounge, live on your carpets. You wouldn't dream of not washing your clothes, and yet, how often do you think about cleaning the carpet in your home?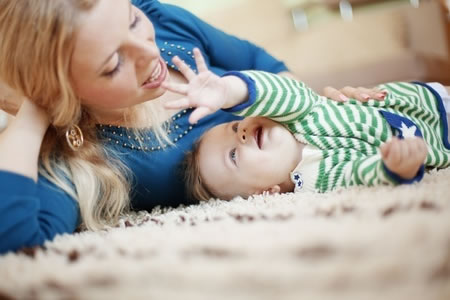 It's a common misconception that you should wait as long as possible to clean your carpet. That's simply not true. All the dirt and debris that accrues on your carpet acts like tiny grains of sand, and every step grinds that debris into the carpet fibers. This causes the fibers to get matted down, fuzzy, and discolored. Vacuuming helps, of course, but it's just not enough. The longer you wait between cleanings, the more likely that this damage and stress becomes irreversible, and the faster your carpet wears out.
Let Elite Carpet Care help you keep your home bright, clean, and looking its best! Shaw Manufacturing and Mohawk Flooring - the two largest carpet manufacturers in the world - recommend cleaning your carpets every 12 months with steam extraction, and more often in homes with pets, heavy soil, or severe allergies. Cleaning your carpet on a regular basis makes your home smell fresh, reduces allergies, extends the life of your carpet, maintains your home's market value, and just makes you feel good!
Elite Carpet Care offers top quality carpet care services at an affordable price. The technicians of Elite Carpet Care are trained to clean your carpet using a two-step cleaning process and the most advanced equipment available to ensure outstanding results, leaving you with carpets that are clean, fresh, and residue-free. Our products are environmentally friendly, and safe for pets and children. We also offer special carpet cleaning services to treat for allergens, fleas, filtration, excessive soil, and difficult spots such as grease, gum, wine and paint.
Step 1: Pre-treatment. Our technicians walk the areas to be cleaned, pre-treating them with a solution designed to break up soil and stains, and providing special attention to highly soiled or high-traffic areas. During this step, we can also apply specialized cleaning treatments for pet stains, over-soil, fleas, or other conditions that require additional care.
Step 2: Steam extraction with clean water. Our HydraMaster direct drive extraction system harnesses the power of a V-8 engine to create steam, and our 6-jet titanium carpet wand allows us to propel the steam deep into the carpet fibers. Powerful suction extracts moisture, taking the loosened dirt and debris along with it. This process safely and gently rinses bacteria, pollen, dust mites, and soil from your carpet, without leaving any residues that may discolor or damage surfaces.
Step 3: Fabric protection. Elite Carpet Care can also help protect your carpet from soil and stains with the application of EncapuGard fiber protectant after steam cleaning. This protectant creates an invisible barrier, making carpet soil- and moisture-resistant, so it's more durable and longer lasting. It also enhances the results of future routine carpet cleanings.